Behind Enemy Lines
My hate cult gears up
I admit being on Twitter again has some things going for it.
The main benefit is that I get the voice back that I spent a year and a half of my life building through hard work. Substack and Mastodon are both far healthier platforms which I will continue to focus on moving people to, but the number of people I can currently reach by including Twitter is exponentially higher. Alas.
I also get access to my 45,000 tweets in well-ordered threads, and I have a year's worth of research and writing on Substack to draw from to share with new people.
(For the worriers, yes, I got my tweet archive. 😉)
So many BUTS.
Twitter was always dangerous territory — as I found out the hard way a year ago. Twitter was being run by a neo-reactionary Elon Musk ally and (apparently) there was only so much truth you were allowed to share.
But now we have QElon overtly weaponizing the personal data of his former employees and users by giving "console" access to people who in a better world would be on the no-fly list. That means your DMs are fair game, and Twitter may ban or deboost you for whatever annoys the "Technoking."
So, if you are still on Twitter, you are behind enemy lines. That's just how it is. Proceed accordingly.
This is not to mention all the Nazis Musk let back on — like the guy who publishes the Nazi website Daily Stormer, which 8chan creator Fred Brennan wrote a pro-eugenics story for.
It also seems basically all harmful behavior is back on the menu, including hate cults targeting people in the open. For example, the aforementioned Fred Brennan and about 50 of my dedicated trolls showed up here:
I recorded about 90 minutes of it before I had to tap out. Fred was spinning all sorts of lies about me and my work. And blatantly George Santosing himself. For example, he really hates that I call him "GamerGate cult leader" and pretends to be some sort of bystander. 😂
Imagine listening to GamerGate trolls make shit up about you for hours. It's not fun. But honestly, in the end it was pretty lame. Fred is a skilled mindfucker but he has no material to work with so he makes everything up as he goes. The result was a mish mash of nonsense conspiracy theories that went nowhere, and the only real damage they did was to their own legal situation.
The nice part was by talking so much Fred could not hide the real agenda behind made up personal insults anymore. His main argument was that I should stop talking about Flynn and Russia — both of which he defended multiple times. 🤷‍♂️
Fred cannot stand the amount of attention the real story about Mike Flynn and Q is getting now that I'm out of Twitmo — because Fred has been working for years to conceal the truth, in order to deflect from his own guilt.
If and only if you are still on Twitter, please retweet this megathread about Flynn. It's driving them all nuts. :)
Of course Chuck Johnson's minion showed up to lie about me as well. Because Peter Thiel is not a big fan of the real story getting out either.
I'm grateful for the people who have reached out and said hi on Twitter, and to my Mastodon friends, I promise to spend more time there shortly. But since MyLittleHateCult(tm) is back in action, I'm going to make sure if I go down again on Twitter, it's swinging.
Here are a few threads from today, ICYMI.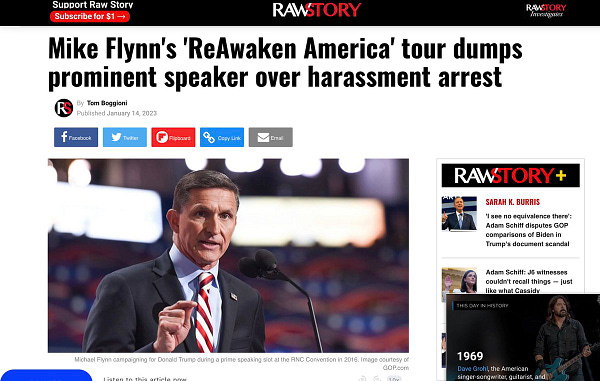 Jim Stewartson, Antifascist, #RIPQ 🇺🇸🇺🇦🏴‍☠️
@jimstewartson
There's no joke here. This is Mike Flynn describing a propaganda operation to use "moms" from his "Health and Freedom Conference" to "shove" legislation to *prevent children from wearing masks* into law. "Nine more states." This. Is. Putin's. PUPPET👇 https://t.co/KluIAYDan6
Thanks again for the support. It means so much. 💙
#EvacuateTwitter #ArrestMikeFlynn
MindWar: The Psychological War on Democracy is a reader-supported publication. To receive new posts and support my work, consider becoming a free or paid subscriber.